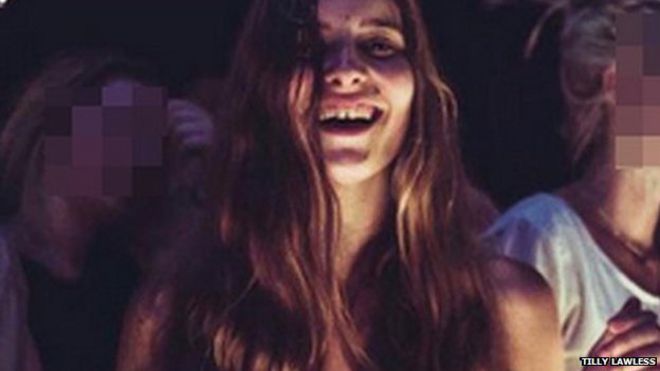 What kind of people are sex workers? In Australia, hundreds of them are telling the world about themselves using social media.
"College student. Aspiring lawyer. Activist. Daughter, sister, sex worker. I don't need rescuing".
These are the kinds of statements that hundreds of Australian sex workers are making about themselves using the #facesofprostitution hashtag. It was started last Sunday on Instagram by 21-year-old sex worker and history graduate Tilly Lawless. She was responding to an
blog post
re-published last week in the popular online Australian women's magazine, Mamamia. The blog was written to mark the 25th anniversary of the prostitute-meets-prince-charming film Pretty Woman, and argued that the reality of sex work was much uglier than in the movie.
Tilly Lawless was angered by the way the piece "generalised sex workers" and "depicted all prostitution as harmful". She herself has been working as a sex worker for two years but only started identifying publicly as a sex worker two months ago in Sydney, where prostitution is legal. She decided to post a picture of herself on her Instagram feed to show another face of prostitution - the face of a young woman who had made an informed choice to be a sex worker - as a protest against the blog.
Shortly after, Tilly was contacted via the Scarlett Alliance - the Australian Sex Worker's Association - who asked if she would post the hashtag on Twitter. And then it began: a mass of hundreds of mostly Australian and mostly female sex workers posted images showing their faces to the world, many coming out publicly as sex workers on social media for the very first time.
"I was really pleasantly surprised," Lawless told BBC Trending, because sex workers "are very rarely humanised as individuals, so often our bodies are spoken about but putting our faces on social media is such a powerful thing".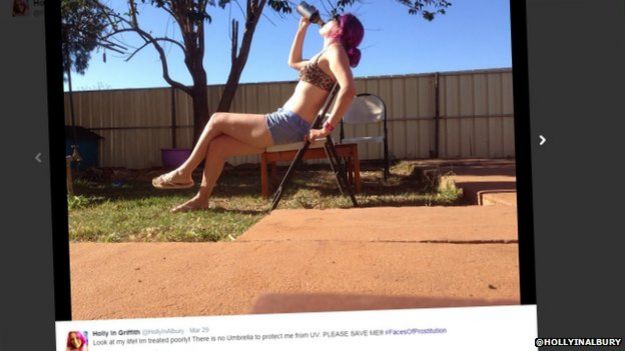 Many of those joining in shared her objection to the original article. Sex worker Holly, pictured above, said her main issue was the photo used - a harrowing photo of a sex-trafficked Eastern European woman. "That's not our face," she told BBC Trending, "not our lived experience". "The article was downright offensive," Australian sex worker and actress Madison Messina told us, because it "uses the argument of sex trafficking to silence our voice whilst simultaneously silencing the voice of victims who are trafficked too".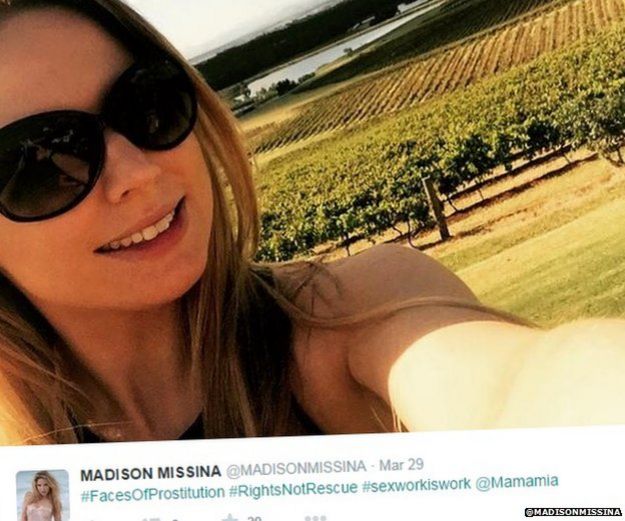 The Pretty Woman blog post had originally appeared on the site of a Missouri-based Christian group, Exodus Cry, which says it is committed to "abolishing sex slavery". The article's author, Laila Mickelwait claimed that the film had lured young women into prostitution and subjected them to a life of abuse and trauma.
She told BBC Trending that she stands by what she wrote despite the sex workers' campaign, and that legalised prostitution creates an environment where illegal sex trafficking can then occur. "Just because there's a handful of women and men who are posting pictures on Twitter saying this is an empowering job doesn't make it true about the industry," she said. "They have a voice but they're the voice of a very small minority who have the privilege of getting on Twitter and being able to post those kinds of pictures".
Tilly Lawless told us she remains angry about these arguments, which "allow us to be oppressed in similar ways to women being trafficked, undermine our independence and autonomy and take away rights from us".
Reporting by Gemma Newby
Comment: The face of the end time!? I really don't know whether this "public boldness" is a surprise or quetion. What's on your mind?
BBC Trending
Posted by Ambassador T. Brikins