March 14, 2018
Ruanda-Urundi: Gasping For Breath On A Flight
'' We had several reporters along, from Time, the Associated Press, and Life; they gave the loudest amen as I prayed.''
Usumbura, the capital of Ruanda-Urundi.
Posted by Ambassador T. Brikins
A harrowing experience occurred later on a flight from Kenya to Usumbura, the capital of Ruanda-Urundi. Because no scheduled air service was available for the last lap of that journey, Jerry Beavan was forced to charter an aged DC-3. It wasn't supposed to go over 12,000 feet because the cabin was unpressurized. The mountains, though, went up to 14,000 feet; as a result we found ourselves gasping for breath. Then we ran into clouds so dense that we could barely see the wingtips. Shortly afterward, the Pilot came back to tell us that both radios had gone out. He couldn't tell where we were, he said, and we dint have enough fuel to turn back. I asked everyone to gather round for a time of prayer. We had several reporters along, from Time, the Associated Press, and Life; they gave the loudest amen as I prayed. Finally, a hole in the clouds appeared, revealing Lake Victoria below. The pilot dove through the clouds and finally got his bearings; he was then able to land without further incident
.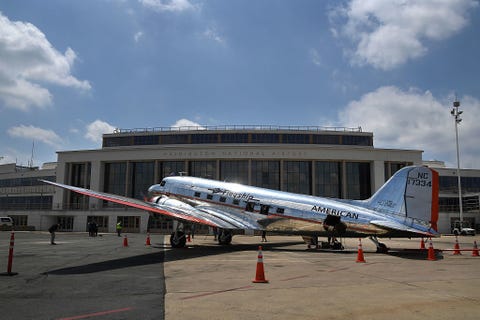 The Flagship Detroit was the 21st DC-3 built for American Airlines in 1937. This airplane is one of the oldest airworthy DC-3s in existence.